Products
Learn about our inspirational products
Business Networking in a Nutshell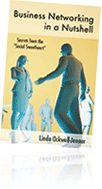 The latest book published by Motivational Steps™ shares Linda's expertise in the world of business networking. As the 'Social Sweetheart' Linda is widely recognized for her networking talents, don't miss your chance to learn from the best!
Business Networking in a Nutshell - Secrets from the Social Sweetheart is a must for any networker!


The APE Philosophy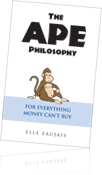 This book is written under the pseudonym Elle Eaujais, and focuses on a character called the APE Philosopher, and his tale of the people of the Town of Simple.
The APE Philosophy shares the secret to attaining everything money can't buy.
APEs to the Rescue DVD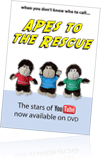 Created as a tie-in with The APE Philosophy, the story of APEs to the Rescue follows three unlikely superheroes, who rely on everyday superpowers to thwart an evil plan. Follow the adventures of Anton, Parker and Ed in this thrilling video and see how the principles of The APE Philosophy can save the day!
These cute stars of YouTube are now available on DVD.
A Life Like Mine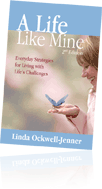 Linda Ockwell-Jenner's book: A Life Like Mine — Everyday Strategies for Living With Life's Challenges chronicles the life of an extraordinary individual. You will realize that your challenges may not be unique to you, after all!
Linda's 6 Steps For Living With Life's Challenges™ are included in A Life Like Mine.
Linda's 6 Steps for Living With Life's Challenges

Linda's 6 Steps for Living With Life's Challenge brings the Motivational Steps experience to CD. Listen to Linda's overview of her 6 Steps for Living with Life's Challenges.
In addition to listening to these easy-to-use steps and how to apply them, place the CD in your computer for access to special bonus material!
Motivational Moments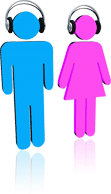 Motivational Moments™ is the ground-breaking podcast from Motivational Steps. Linda Ockwell-Jenner was amongst the first to offer a regular podcast aimed at providing insightful commentary on everyday life.
Linda's podcast also gives you the chance to be a part of the show! If you would like to be a guest on the show, contact us.
Products
Learn more about the products produced by Motivational Steps: