Motivational Moments
The Podcast from Motivational Steps
Motivation On-the-go!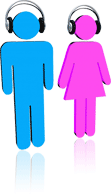 Need some motivation whilst travelling? Perhaps you're looking for some inspiration whilst you work? Professional Speaker and Author, Linda Ockwell-Jenner hosts Motivational Moments™, the podcast for you!
Why Listen?
In each episode Linda shares her thoughts, comments and messages of inspiration on far-reaching and broad topics. Subscribers to Motivational Moments have commented that it's like having their own personal Motivational Speaker available 24x7.
Subscribing
The easiest way to subscribe to Motivational Moments is via Apple® iTunes®. If you have iTunes on your computer, you can click here to visit our Podcast page. If you are using alternate Podcast software, you can point it at the feed address below:
http://www.motivationalsteps.com/podcast/index.rss
Listen Now
If you would like to sample Motivational Moments, or would rather not install Podcast software on your computer, you can use our interactive, real-time Podcast Player. This enables you to select any episode and listen direct from this page.
Please note: the Podcast Player may take some time before it starts playing, depending upon the speed of your Internet connection.
Products
Learn more about the products produced by Motivational Steps: